Coming up with my own design is something I really like to do but it's a challenge. Making jewelry, for me, is a little like cooking. I usually try an existing  recipe first following the directions to the letter. After I eat my new meal I think about how I would change the recipe to make it a touch different or, in some cases, better. If I didn't cook all the time, trying new recipes, new ingredients, I wouldn't have the ability to change a recipe from lack of experience. After cooking for a lot of years and trying many recipes, I'm more comfortable now and readily omit and add ingredients. Sometimes I'm successful, sometimes not, it just takes practice and a willingness to fail sometimes.
Making jewelry is very much the same. In the beginning I just followed directions. I'd find a pattern I liked and ordered exactly the beads they told me to get, the sizes, and sometimes even the colors they specify. I would follow the pattern religiously and rip out any time I discovered I had made a mistake. Until I had mastered a stitch (Chevron, RAW, Herringbone, Crossweave) I would not alter a design. But now I'm a few years into beading and have become more adventurous. Sometimes I alter designs and then realize *why* it had to be a size 15 delica a
nd not an 11 round seed bead. Sometimes it doesn't matter at all. For me, it's how I like to learn—trial and error.
Recently I found this free earring design on Bead & Button's  website. They're called Mosaic Medallions. It uses RAW and doesn't take a lot of beads. I never really make earrings—it's pretty rare. But, I usually have a few leftover crystals from bracelets and necklaces laying around and thought this would be a good way to use them up.
But the design wasn't exactly what I liked. However, I did the design first as instructed.  Ten minutes after I finished them, I ripped them out. I modified the design and made these instead.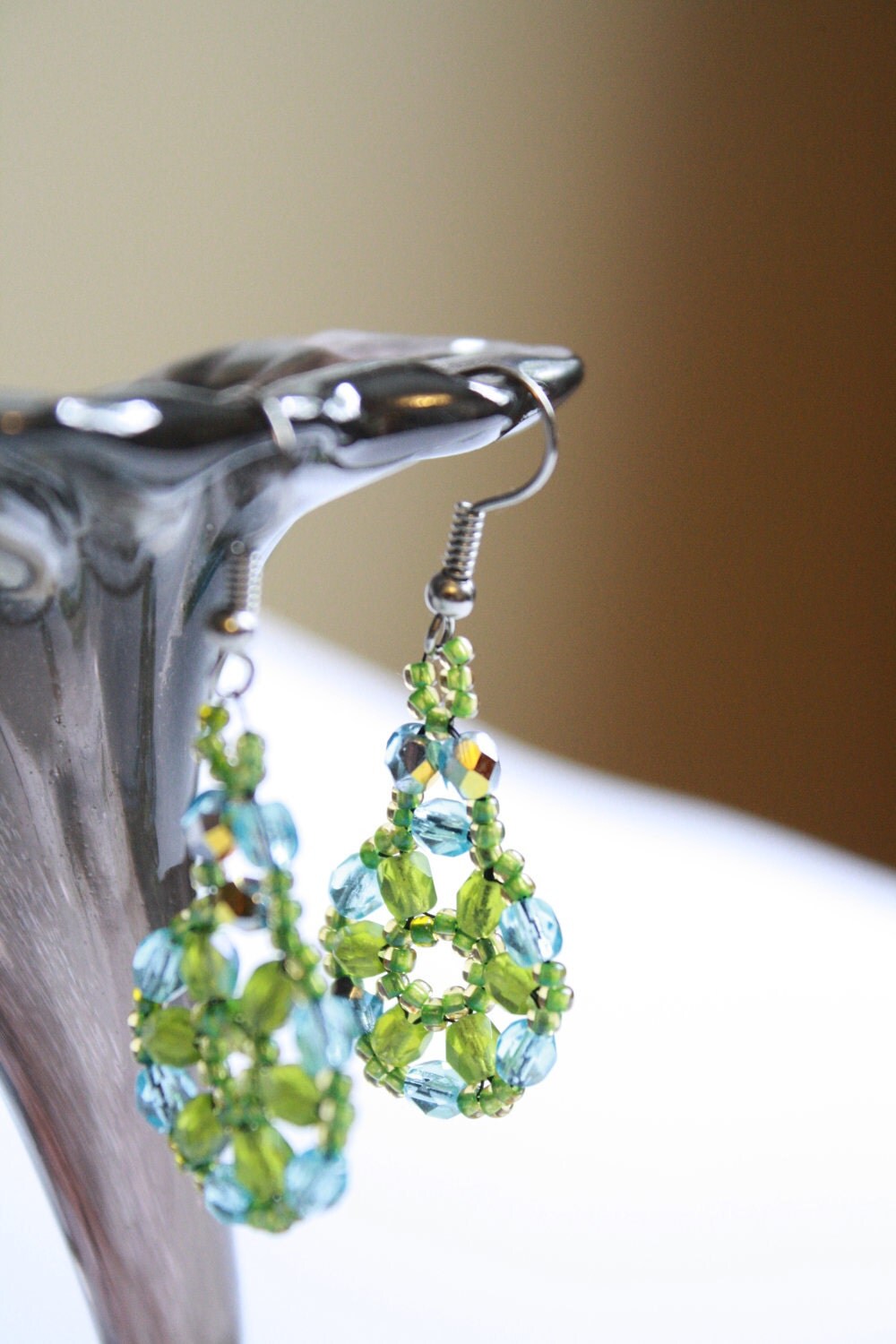 Personally I like mine better. But if I hadn't made the first design it wouldn't have occurred to me to make these.
How do you come up with designs?